Additional Details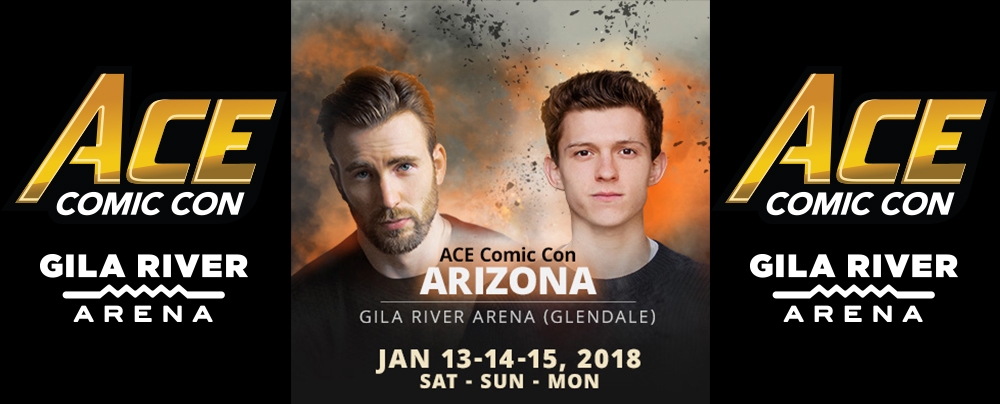 ACE COMIC CON ARIZONA
January 15, 2018 - 11:00 AM
chris evans, tom holland and casts of "captain america",
"spider-man: HOMECOMING" TO HEADLINE NEW ACE COMIC CON AT GILA RIVER ARENA
with Stan Lee!
GLENDALE, Ariz. – Chris Evans, star of the worldwide hit Captain America movie franchise, and Tom Holland, who portrays Spider-Man in the Marvel hits "Spider-Man: Homecoming" and "Captain America: Civil War" are headlining the new ACE Comic Con Arizona at Gila River Arena, Jan. 13-15, 2018.
ACE Comic Con Arizona is a division of ACE Universe, a newly launched experiential events company created by brothers Gareb and Stephen Shamus. With 20 years of experience and 175 Comic Con shows under their belts, the brothers are creating a new immersive experience that looks to redefine the industry and break the mold of the linear Comic Con business.
Along with Evans and Holland, other confirmed guests include Sebastian Stan (The Winter Soldier – Captain America), Anthony Mackie (The Falcon – Captain America), Hayley Atwell (Agent Peggy Carter – Captain America), Laura Harrier (Liz – Spider-Man: Homecoming), and Jacob Batalon (Ned – Spider-Man: Homecoming). More guests will be announced soon, including superstars from World Wrestling Entertainment (WWE).
VIP Admissions, Photo Ops and Autographs are on sale now at www.aceuniverse.com. General Admission Tickets can be purchased online at Ticketmaster (www.ticketmaster.com) starting at 10 a.m. PST on Tuesday, Oct. 10. Additional ticketing information also can be found at www.aceuniverse.com.
"When we first went to Gila River Arena, we knew we had found the right home for our next big event," said Gareb Shamus, ACE Universe Chairman and CEO. "We believe the fans will fall in love with this new style of Comic Con and we can't wait for everyone to enjoy everything the weekend will have to offer, which includes the opportunity to watch all of the can't-miss programming on the arena Jumbotron." ACE Universe has secured an exclusive Marvel Comic variant cover to Captain America #495, drawn by Good Charlotte lead guitarist and illustrator Billy Martin. This book is exclusive to box office buyers and VIPs. Martin will be on hand all three days to sign the books, which feature Captain America and Spider-Man, in an homage piece of art to the great Todd McFarlane.
ACE Universe also has partnerships across key sectors including technology, media, entertainment, gaming, publishers, manufacturers, licensors and retailers to help create a robust experience for fans.
Additionally, ACE Universe will be the first to provide FREE global live streaming to fans with wall-to-wall coverage of the entire Comic Con. Now, all fans can enjoy access to top-tier talent, breaking news and on-site programming as every aspect of the show will be fully streamed, social media friendly, and available on mobile devices.
"Chris Evans, Tom Holland and the casts of both films are global box office stars that provide fans a once-in-a-lifetime opportunity to meet and greet with their favorite super heroes," said Stephen Shamus, President of ACE Universe. "When you listen to the fans, these are the stars that are most requested, so securing the main cast members from both Marvel franchises makes this a can't miss weekend. We also haven't forgotten the WWE fans, some of the most excitable fans in the world."
ACE Comic Con Arizona is the second of the new ACE Comic Cons, with the debut event set to take place at NYCB Live: Home of the Veterans Memorial Nassau Coliseum in Long Island, NY, Dec. 8-10. In addition to these two shows, ACE Universe will announce more 2018 dates, cities and ticket information at www.aceuniverse.com and on the ACE Comic Con social channels at Facebook.com/acecomicon or @acecomiccon on Instagram and Twitter.
Things to know:
PARKING
· All lots open 3 hours before event starts.
· Three day parking pass online is $10 or single day parking passes are $5.
· All parking lots are $5 day of event.
· All lots will have the option of reentry.
· No Valet
GATES
· GA VIP Guests enter through GATE 2
· GA Guests enter through GATE 4
· VIP Guests Enter through GATE 6
WEAPONS POLICY / PROHIBITED ITEMS
· ALL REPLICA/PROP WEAPONS WILL NEED TO BE INSPECTED AND TAGGED, UPON ENTERING THE VENUE AT THE WEAPONS INSPECTION AREA. The security tag is to remain attached to the replica/prop weapon at all times while attending the event. All weapons are subject to inspection while attending the event. The inspection area is located on the northwest corner of the building between Gate 3 and Gate 4.
· Any replica weapons must be inoperable and not include a firing pin. Projectile Weapons must be rendered inoperable. For example, this means bows may NOT have string and arrows must have foam tips or no tips.
· ALL costume/prop weapons MUST conform to State and Federal Laws and will be inspected at the Security Check before entering Gila River Arena.
· If you DO NOT WANT your costume weapons inspected and/or tagged, DO NOT BRING them. Approved costume weapons will then be tagged.
· If the security tag is observed to be tampered with or removed, the item will need to be re-inspected and the guest may be subject to ejection from the event.
· Your approved weapon may be revoked at any time, if: you are handling it in a way that is deemed threatening by other attendees or you remove the security tag.
· Prop Weapons are encouraged to be made of cardboard, foam, wood or other lightweight materials.
Prohibited items are listed below, but not limited to;
· Sharpened Metal-Bladed Weapons including, but not limited to axes, daggers, hatches, knives, kunai, shuriken, swords, sword canes and switch blades.
· Blunt Weapons including, but not limited to brass knuckles, clubs and nunchaku.
· Explosives including, but not limited to firecrackers and fireworks.
· Chemical weapons including, but not limited to mace and pepper spray.
· Excessive Noise Making Instruments including, but not limited to vuvuzelas, grenade whistles and grenade horns.
· Hate symbols and/or speech will NOT be tolerated. Costumes or clothing that involve hate symbols or hate groups are not allowed.
· Laser pointers, flashlights, handcuffs, alcohol, drugs, and/or illegal substances
· Tripods, monopods (selfie sticks), tablets, laptops, computers, promotional materials.
· Outside food & beverage, glass bottles, cans, flasks, coolers