Concerts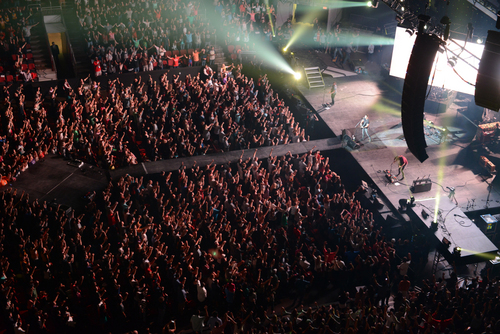 Gila River Arena, home of the National Hockey League's Arizona Coyotes, was built as a state-of-the-art, multi-purpose facility that anchors the 223-acre, $1 billion development Westgate City Center.
The Arena has established itself as one of the premiere sports and entertainment venues in the country and has earned its place of distinction as "Arizona's must play." Gila River Arena received the prestigious Pollstar Best New Concert Venue of the Year award in 2004, and has been recognized by azcentral as Best Sporting Venue and Best Major Concert Venue in the Valley.
Gila River Arena has hosted some of the biggest names in entertainment industry. Such names include Andrea Bocelli, Bon Jovi, Bruce Springsteen, Christina Aguilera, The Eagles, Elton John, Faith Hill & Tim McGraw, Foo Fighters, Hannah Montana, Justin Timberlake, Katy Perry, Madonna, Mannheim Steamroller, Paul McCartney, Red Hot Chili Peppers, The Rolling Stones, Stevie Wonder, Tom Petty & the Heartbreakers, U2 and Van Halen.
For more information on booking an event at Gila River Arena, please contact 623.249.2102..